Oregon Affordable Apartment Building on Historical Registry Is Up For Sale
Historical Registry art-deco modern theme apartment building in downtown Medford, Oregon is up for sale. Russ Dale Properties is selling the property for $5,265,000.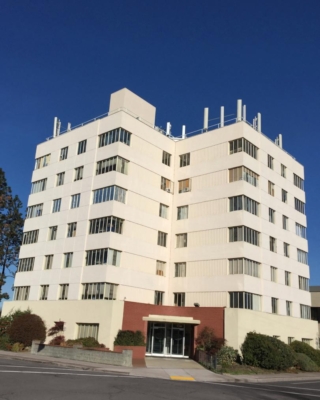 Press Release (ePRNews.com) - MEDFORD, Ore. - Feb 23, 2017 - Russ Dale Properties announced today that the Medford Plaza apartment building is up for sale. Built in 1952, The Medford Plaza has only had two owners in its history. Russ Dale Properties has owned the building for the last 30+ years. Medford Plaza Apartments are located at 235 South Oakdale Avenue in Medford, Oregon in the downtown core. This 7-story building with 50 apartments and three cell towers occupies a premier location in downtown Medford, surrounded by the City Hall, the City Hall Annex, the Justice Center, the new Medford Police Department, the Jackson County Health Care Department, and the County Court House. It is a short walking distance to the Rogue Valley Public Transit station, hosts more than 40 on-site parking spaces for residents and includes an additional parking lot and municipal parking across the street. Alba City Park is only a short walk and there is an on-site private park.
The Medford Plaza was designed by Don Byers, an innovative architect known for his cross-shaped buildings that provides natural light to most apartments from three sides, providing warm and inviting living environments. The Medford Plaza is on the Historic Register because of its classic integration of Art Deco-Modern themes and benefits from reduced property taxes. Construction is all low-maintenance cement and steel, has a very simple centralized water transport heating and cooling system, is very inexpensive to operate, and is in excellent condition.
When first constructed, The Medford Plaza was the only building in Southern Oregon that offered privacy, prestige, security and safety in a premier location. As pristine, historic, 50-unit apartment building for more than 30 years and it has paid for itself many times over. It has been maintained at 100% occupancy for decades, has three cell towers, is the most strategically located in the county and has no deferred maintenance.
Recent upgrades include: A new high definition video surveillance system that is monitored from the front office, in all common areas, new carpeting, new LED lighting and high-illumination paint in all common areas. With many long-time residents who demonstrate "pride of home", incidents that are common at garden style apartments are minimal at The Medford Plaza.
For more information visit the website: www (dot) medfordplaza(dot)com
Source :
Russ Dale Properties