Ryteprint is Providing Online Printing and Design Solutions in Nigeria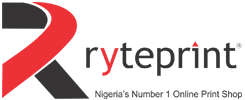 Press Release (ePRNews.com) - Nigeria - Aug 24, 2019 - Ryteprint is a well-established online provider of customised printed products and marketing materials which they offer to their broad range of clients in Nigeria. Founded by industry professionals, the company has made their impact felt in the Nigerian market where they've helped both individuals and corporates to achieve great success in their day-to-day activities. Keen on meeting their client demands, the firm delivers high-end personalized solutions for various products including business stationery, wedding stationery, photo products, promotional items, apparels, and much more. The company further complements its products with their online platform that allows clients to shop from anywhere in Nigeria, making them a convenient and highly reliable company to partner with.
Giving insights about their online platform, the company's spokesperson reiterated, "At Ryteprint, we've always endeavored to provide clients with convenient printing solutions that will see them achieve successful applications. One of the ways we achieve our convenience and reliability goals is through our site that allows you to design your products without having to come to our offices. In essence, through our website, you can custom create your design from a blank canvas and upload your print ready design, where we'll then bring your designs to life. Once we've finished working on the products, we'll then send the items through our shipping partners, and you can be sure your purchase will reach you in time just the way you designed it."
When it comes to partnering with the best printing and design companies in Nigeria, clients will find Ryteprint to be a suitable choice for this endeavor. Having been in the printing and design business for some time now, they understand the tidbits involved in coming up with trendy printing and design solutions. The printing firm has invested in modern printing and design tools which allow them to offer top-of-the-range items, and this has given them an edge over their peers. Whether it's a large or small printing and design project, one can be sure that the company will deliver solutions that will wow them.
Talking about their printing solutions, the company's spokesperson added, "Our commitment and never-ending zeal to providing high-quality printing solutions has seen us emerge as one of the best printing companies in Nigeria. We continue to address the requirements of our clientele through our broad range of printing products guaranteeing nothing short of excellence. Right from our business cards to our promotional items, we seek to display great innovation, and our team of talented designers sees to it that this ambition comes alive. Printing is what we know best, and nothing is beyond our reach in this arena."
Ryteprint has since its inception been associated with the best tri fold printing solutions – an area that they've never disappointed their clients on. The company's tri fold solutions are suitable for businesses, events, and advertising. These items are printed, finished, and sealed to greatest perfection with the objective of ensuring they serve their purpose to the utmost satisfaction. They're available in different weight options, and one is guaranteed to find a solution that meets their requirements.
About Ryteprint
Ryteprint is a master printing and design company that seeks to provide high-end printing solutions for its clientele in Nigeria. The company covers all kinds of printing areas and assures clients of unmatched customer care services at all times.
Contact Details
Company Name: Ryteprint
Tudor House 70,
Shipeolu Street off Ikorodu Road
Palmgrove, Lagos Nigeria
Tel: 07019109598
Email: sales@ryteprint.com, info@ryteprint.com
Website: www.ryteprint.com
Source :
Ryteprint Business Solutions Limited