SMILE media Provides Online Marketing and Website Development Services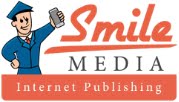 Press Release (ePRNews.com) - Boston, MA - Dec 07, 2017 - SMILE media is a digital marketing agency passionate about expanding the scope of performance of a vision and uncovering new opportunities for effective marketing. Working with a diverse team that includes website designers, developers, and marketing experts, the firm's focus is on maximizing the performance of businesses by assisting them to embrace future-oriented technologies. Taking into account the concerns of their customers, SMILE media has a satisfaction guaranteed policy where a refund or re-work on the unsatisfactory aspects of their service are made at no extra costs.
Speaking of the latest website designing trends, the Chief Designer said, "The core consideration while thinking about investing in a new website is how good the user experience will be for your customers. A first for creating an efficient user experience is to set expectations by using estimated read times. When visitors land on a page of your website and see an average read time, their curiosity is stirred, making them stay longer on your site. Another secret is to personalize the site by using custom images and placing an emphasis on designs that can run in smaller screens."
The internet is the most accessible platform used by millions of brands and businesses globally to advertise their products and services to target markets. Given the level of competition for recognition in the online world, the call for a well-executed marketing strategy is required now more than ever. Standing out among marketing agencies in Boston is SMILE media whose targeted, measurable, and interactive solutions are custom-built to propel their customers to greatness. Covering all major areas of interest in the digital market, the team sets up a stage that attracts views and subsequently customer loyalty.
Talking about the impacts of social media marketing, the Marketing Director said, "Social sites are among the most powerful marketing tools that are within reach of any organization regardless of size. This platform has for long been ignored due to the misguided perceptions that their return on investment is insignificant. We have the best social media marketing plans that have been built as a result of research and in-depth understanding of these rich and interactive sites that can help you gain a broader market grasp than ever before."
The secret to SMILE media's successful website design in Boston is the robust functionalities, capabilities, and a great look that is emphasized during their creations. A combination of these factors on a platform that is secure and reliable gives their clients a market advantage as they sell themselves across multiple channels. SMILE media bases their designs on the underlying conditions, industry, and marketing plans an organization is seeking to explore while reducing costs and risks of the investment. Innovative solutions can also be included to provide abilities to stay connected even while on the move.
About SMILE media
SMILE media invests  in businesses that want to develop global platforms and ease their online marketing through innovative and disruptive technologies that can help them grow to long-term firms that matter.
Source :
https://www.smilemultimedia.com/