Strategic Account Plan Template for B2B Sales Released by Four Quadrant
B2B Sales Template Outlines Proven Process to Acquire Customers & Expand Existing Accounts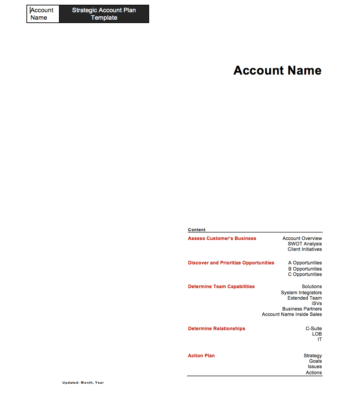 Press Release (ePRNews.com) - SAN FRANCISCO - Jun 06, 2017 - Four Quadrant, the premier provider of B2B go to market strategy and tactical resources, has released its latest marketing resource – the Strategic Account Plan Template for B2B Sales. This go to market sales strategy template is a proven, pragmatic and actionable blueprint for B2B sales people to develop and execute an effective account acquisition and penetration strategy.
According to IDC, IT buyers indicate that 54% of B2B sales reps are unprepared for their initial customer meetings. Since in-person, face-to-face meetings remains the top communication channel for B2B sales reps to connect with customers, this stat is astonishing. Couple that with the average sales rep exerting 64% of their time on non-selling tasks (mostly administrative) and it is easy to understand why most B2B sales reps do not meet or exceed quota.
The Strategic Account Plan Template enables sales teams to develop and execute a cohesive and integrated sales action plan to drive new customer acquisition (increase market share) and propel deeper and wider penetration into existing accounts (expanding share of wallet). The sales template provides a framework for B2B sales people to capture the right information to intelligently approach an account to facilitate an insightful conversation about the prospect's business, competitors, market and technology.
According to Peter Buscemi, Managing Partner and Founder of Four Quadrant LLC, "Many organizations create a culture of increasing the volume of sales activity. That's good if there is a proven process that leads to a desired business outcome. However, numerous repetitions of a bad golf swing simply leave the golfer with a bad golf swing." Buscemi explains that setting time aside to analyze the account and formulate a proactive plan to penetrate the account or expand within the account will provide the necessary framework to guide B2B sales reps to make good tactical decisions. Buscemi also notes that best-in-class sales organizations are actually reducing the volume of leads, and as a result are generating more revenue. Calling on the right account (fit), at the right time (intent) and with the right message (insight) is producing higher conversion rates and requiring fewer sales resources and cycles.
All of Four Quadrant's go to market resources are designed for B2B sales people and marketers to leverage proven methods and processes used at G1000 companies, startups, VCs and at the executive MBA level to design, develop and execute go-to-market strategies and tactics.
About Four Quadrant
Four Quadrant was founded by Peter Buscemi, a seasoned CMO with three decades of experience spanning start-ups to Fortune 500 companies in addition to advising portfolio companies and teaching at the executive MBA level. The sole mission of Four Quadrant is to provide B2B go to market resources for sales executives and marketers to effectively develop go to market strategies and execute go to market tactics. https://www.fourquadrant.com
Source :
Four Quadrant LLC

Business Info :
Four Quadrant LLC
6 Beach Road #985 Belvedere, CA 94920
Belvedere, California - 94920 United States
Phone: 4152694834
Website:
http://fourquadrant.com