Traliant Announces New LMS App for Compliance Training Managers
Announcing our new LMS Managers App, providing 24/7 tracking of training activities from any iOS or Android device.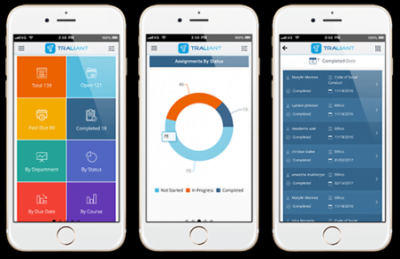 Press Release (ePRNews.com) - MANHATTAN BEACH, Calif. - Aug 10, 2017 - Traliant, a provider of interactive, online compliance training for the modern workforce, today announced the availability of a new LMS (learning management system) app that gives managers on-the-go access to their organization's compliance-training activities from any smartphone or tablet.
Traliant's LMS App for Managers leads the industry in enabling training managers and administrators to assign courses, monitor employees' progress, text or email due-date notifications, view future training demand and more – all from the convenience of their iOS or Android devices.
The app is available to download on Google Play and the App Store at iTunes at no cost to customers of Traliant's Preventing Discrimination and Harassment Training Suite or new Code of Conduct course.
"HR and compliance-training managers can now view their training metrics and reports 24/7, no matter where they're located or which device they're using," said Mike Pallatta, Traliant's Chief Executive Officer. "The LMS App for Managers is not only a big time-saver, it eliminates the guesswork in managing training schedules and can help improve the overall success of compliance-training programs."
Key Features of Traliant's LMS App for Managers and Administrators
• Allows managers and administrators to track course assignments and training activities on-the-go, from any smartphone or tablet.
• Reporting Dashboard displays all the critical information managers need to be in control of their compliance-training program 24/7.
• Provides access to the status of course assignments and completions, past and pending deadlines and future training requirements for the next week, month, quarter or year — by department and individual employee.
• Enables managers to notify employees about pending or past-due deadlines.
• Lets managers working in the field quickly identify training issues and take action on the spot.
• Works on any iOS or Android phone or tablet, using any browser.
• Available on Google Play and the App Store at iTunes at no cost to Traliant customers.
To learn more about Traliant's LMS App for Managers, visit https://www.traliant.com/lms-compliance-manager-app/
About Traliant
Traliant was founded by industry veterans from some of the world's most successful compliance-training companies to meet the challenge of transforming compliance training from boring to brilliant. Backed by Martinson Ventures,Traliant delivers millennial-friendly, interactive online compliance training on an eLearning platform that allows for easy and cost-effective customization. For more information visit: http://www.traliant.com.
Source :
Traliant