Women's United Premier Soccer League Announces Anaheim Legacy FC as Expansion Team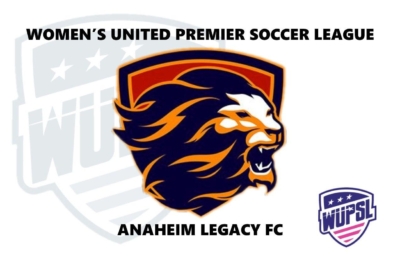 Press Release (ePRNews.com) - LOS ANGELES - Mar 14, 2017 - Women's United Premier Soccer League (WUPSL) is pleased to announce that Anaheim Legacy FC will join the league starting with the inaugural 2018 Spring Season.
Anaheim Legacy FC, a Pro Development team now in its second year, will play in the WUPSL's Western Conference.
Women's Premier Soccer League Director Don Harmon said, "It is a wonderful thing to see clubs represented by both a women's and a men's team. As a soccer community we are stronger together. Anaheim Legacy FC are a great representation of the WUPSL. I expect them to have many years of success in the WUPSL."
Anaheim Legacy FC is led by Owners and Head Coach Ehab Zenga, one of the game's most influential goalkeeper coaches.
Zenga, 47, an Egyptian-born former professional and international player, is also the founder and innovator of Legacy Brand Packaging Tape and is CEO at Pro Force Enterprises in Orange County.
Anaheim Legacy FC Owner and Head Coach Ehab Zenga said, "For the women player it's hard because there's aren't many professional teams. With this I can help promote them and it's good for them. When it was announced that there'd be a women's league I said, 'This is a good chance for me to help these players get into teams, play competitions and find bigger goals for them.'"
Zenga created Anaheim Legacy FC two years ago to join the UPSL. A coaching veteran who has worked with U.S. Soccer and CD Chivas USA for many years, Zenga concurrently currently helps with the ECNL's Irvine Strikers.
"My goal was when we started Anaheim Legacy FC was to help players find a place to play to help them get to the next level. This is the same idea we have for the women's team," Zenga said.
The team is exploring its venue options in order to comply with the WUPSL's Minimum Standards. The team is currently practicing at Lake Forest Sports Park (28000 Rancho Pkwy, Lake Forest, CA 92630), and will be scheduling upcoming friendlies and exhibitions.
About Anaheim Legacy Football Club
Anaheim Legacy Football Club is an American Soccer club currently based in Anaheim, Calif., and a new member of the Women's United Premier Soccer League. Anaheim Legacy FC will compete in the WUPSL's Western Conference.
Contact:
Ehab Zenga
Direct: 714-391-8341
Website: http://www.anaheimlegacyfc.com
Women's United Premier Soccer League
The WUPSL was formed in 2017 with the intent to provide a stable Pro Development league for outstanding numbers of players nationwide. Partnered with the UPSL, the fastest growing Pro Development League in the USA, the WUPSL has a proven support system. Each WUPSL team is individually owned and operated, and is responsible for maintaining WUPSL minimum standards.
More information about WUPSL can be found at http://www.wupsl.com or by following the league on Facebook (http://www.facebook.com/wupsl) and Twitter (@wupslsoccer).
Contact UPSL:
info@upslsoccernews.com
Direct: 310-415-5691
Media Relations:
Dennis Pope
dennis.pope@upslsoccernews.com
Direct: 951-675-3963
Source :
Women's United Premier Soccer League

Business Info :
Women's United Premier Soccer League
15716 freeman ave
Lawndale, California - 90260 United States
Phone: 3104155691
Website:
http://www.wupsl.com