'10 Days' Hair Oil Records ₹ 5 Million in Sales With Flash Offers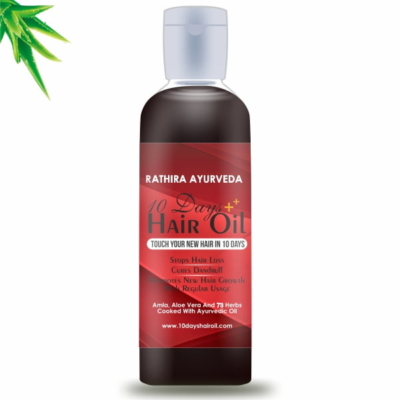 Press Release (ePRNews.com) - COIMBATORE, India - Sep 15, 2017 - Rathira Ayurveda has just announced that their '10 Days' Hair Oil has reached ₹5 million in a limited time flash offer sale that's going on right now.
At Rathira Ayurveda, the mission is to deliver 100% ayurvedic yet effective products that consumers can use with confidence. Among these products is '10 Days' Hair Oil, a brand new hair oil specially formulated in Kerala.
According to Rathira Ayurveda, '10 Days' Hair Oil has been made with a special formula including a blend of 76 rare herbs. The 100% ayurvedic formula has ISO and GMP manufacturing certification to ensure the height of quality and consumer confidence.
We believe in results and our customer reviews are the best evidence.
Rathira Ayurveda introduced '10 Days' Hair Oil with a special flash sale. The limited time pricing has been extremely well received by consumers. So far, the company has recorded approximately ₹5 million in sales, and sales continue to pour in.
The company attributes their high sales to a variety of factors. Finding such a pure and effective hair oil at flash sale pricing is one of these factors. Hundreds of positive customer reviews also add fuel to this.
In addition, the Kerala-made formula ships for free across the country with COD (cash on delivery) available upon request. When shoppers pay with PayUmoney, they receive an extra 25% discount.
'10 Days' Hair Oil produces results quickly, with users claiming tamer hair and new hair growth.
The team at Rathira Ayurveda is proud to back their products with a 100% Customer Satisfaction Guarantee. According to the company, the flash sale won't be available for much longer. More information about the sale and 10 Days Hair Oil can be found at https://www.10dayshairoil.com/product/oil.
 About Rathira Ayurveda 
Rathira Ayurveda is dedicated to offering 100% ayurvedic, effective products backed by world-class customer experiences. 
Contact 
Rathira Ayurveda Private Limited
Website: https://www.10dayshairoil.com
Source :
Rathira Ayurveda Private Limited

Business Info :
Rathira Ayurveda Private Limited
109, Thanneer Thottam, Pollachi Main Road
Coimbatore, Tamil Nadu 641021