Boost your business brand with a high visual coaster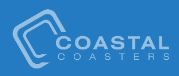 Press Release (ePRNews.com) - Southport, QLD - Jun 14, 2019 - Businesses across Australia are being handed the best way to get their name in the eye of potential customers – on millions of drinks coasters!
Coastal Coasters Pty Ltd prides itself on producing a premium quality product for a wide range of companies, including breweries, marketing, digital advertising agencies and print management groups.
Their Southport, Queensland factory, is capable of printing a high turnover of work which sees them producing up to and over three million coasters for any one job.
"We source the best quality stock from sustainably managed forests which make our products environmentally friendly," declared business owner Mr.Walter Page.
Coastal Coasters is also one of the few Australian companies that can offer up to 1mm 430gsm coaster board, and utilise a huge range of shapes and custom dies to suit customers' needs.
Their most popular products include drink coasters, stubby coolers, bar runners, enabling businesses to brand and advertise in a unique way.
And such has been the demand from companies, Coastal Coasters Australia has launched a new range of shop products and is presently offering a drink coaster promotion sale.
The company has launched a new, easy to use website, which will soon be introducing a new range of promotional products.
Mr. Page said: "We specialise in the production of drink coasters and pride ourselves on the quality of our products."
The beer mat board they use to print is 8mm 355gsm and 1mm 425gsm, enabling them to print both single and double-sided coasters depending on customers' artwork requirements.
He added: "Our factory is set up to manage and organise the distribution of all orders from start to finish, making the experience a seamless one."
Coastal Coasters products are printed in CMYK, but also offer PMS printing to ensure branding standards are met. The minimum order for drinks coasters is 2000 and they offer a standard turnaround time of 10-14 working days.
For more information about their services or enquire about an order, phone the sales staff on 1800 686 590 or email their trade specialist: info@drinkcoasters.com.au