Gypsy Wagon To Captivate Glampers At Julatten Paradise
Glampers seeking a luxurious get-away experience with a difference have a novel treat in store with the completion of Julatten Joinery's handcrafted, bespoke, full-sized Romany-style gypsy wagon.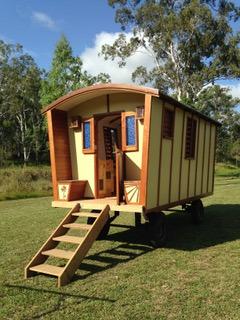 Press Release (ePRNews.com) - PORT DOUGLAS, Australia - Jun 14, 2017 - Inspired by the antiquity and history of Europe, the gypsy wagon, which offers a romantic mixture of old and new, has been a labour of love for local craftsman Glenn Cambage.
A wood worker by trade Glenn, together with his wife Wendy, have lovingly built Sweetwater Lodge over the last 10 years, making the most of its idyllic location in the Port Douglas hinterland.
"Glenn has always appreciated old things such as vintage caravans and cars, so when we saw a trailer on the side of the road for sale we jumped at it – he then simply followed the plan in his head when it came to building it."
Built from new and recycled timbers, the wagon features a curved roof, exposed timber rafters, timber floorboards and antique leadlight windows, which Glenn has had stored in his "garage for years".
"We have it all here – privacy, beautiful surroundings, mountain views, running creeks, iconic Australian wildlife including platypus, wallabies, pademelons, bandicoots and goannas, together with abundant birdlife. These are just some of the natural pleasures that make Sweetwater Lodge so special.
"The wagon, like the two luxury eco-lodges, has been fitted out with a real Australian feel. It is just lovely and every time I walk in there it brings a smile to my face," Wendy added.
While the cute gypsy wagon may be reminiscent of Wind In The Willows, Wendy said it conjured an idea of freedom and adventure, upmarket, yet with a down to earth feel.
"It's something that will definitely appeal to "glampers" and travellers seeking a new and unique experience," she said.
Although it sits on wheels, the gypsy wagon has a permanent home in a private spot about 100m from the creek. Inside it has a queen bed, ensuite toilet with hand basin, kitchenette and seating area, a traditional stable door and porch seats by the steps.
It sits beside an undercover area that includes a camp kitchen with gas stove, dining setting, lounge and hammock, a screened shower open to the stars, as well as an outdoor fireplace and barbecue plate to add to the camping feel.
About 150 birds have so far been recorded across the four different habitats on Sweetwater's 160 acres. Two regular visitors to Sweetwater that have birders keen with anticipation are the elusive and much sought after Blue-faced Parrot Finch and the migratory Buff-breasted Paradise Kingfisher, though Wendy's favourites are the exquisite Rainbow Bee-eater and iconic Kookaburra.
Sweetwater Lodge, on the Mossman-Mt Molloy Road, boasts gorgeous swimming holes, private rainforest and several other walking tracks, free-to-use kayaks, together with the popular "Platypus Hut", a bush bbq facility on the edge of the creek, perfect for relaxing and platypus-spotting.
Sweetwater certainly is "Nature's Paradise in Tropical North Queensland".
For more information on Sweetwater's unique accommodation, visit www.sweetwaterlodge.com.au
Source :
Sweetwater Lodge