High Strung: Free Dance Begins Principal Photography
High Strung: Free Dance Begins Principal Photography Announces Talented International Cast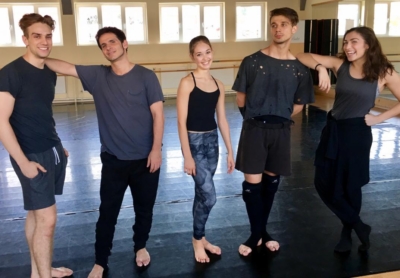 Press Release (ePRNews.com) - NEW YORK - Jun 30, 2017 - HIGH STRUNG: FREE DANCE, from filmmakers Michael and Janeen Damian, begins principal photography July 11th in Europe and New York City. Starring the award winning ballerina Juliet Doherty (ON POINTE), Harry Jarvis (BBC's QUEENS) and Thomas Doherty (DESCENDANTS 2, Disney's THE LODGE), HIGH STRUNG: FREE DANCE combines ground breaking new music and dance genres with an expansive mix of choreography.
Filmmakers Michael and Janeen Damian, composer Nathan Lanier and cinematographer Viorel Sergovici are all reprising their creative roles from HIGH STRUNG with a new team of distinguished and eclectic choreographers. Emmy award winning choreographer Tyce Diorio (SO YOU THINK YOU CAN DANCE, Taylor Swift's SHAKE IT OFF Music Video) will lead the team including the award-winning Myles Thatcher of the San Francisco Ballet and Bollywood expert Nakul Dev Mahajan (SO YOU THINK YOU CAN DANCE, DANCING WITH THE STARS.)
HIGH STRUNG: FREE DANCE, set in New York City, follows Barlow (Juliet Doherty), a young contemporary dancer and Charlie (Harry Jarvis) an innovative classical pianist. Both win the break of a lifetime when they are cast in the international live tour of Free Dance choreographed by the young and talented Zander (Thomas Doherty).
Jane Seymour will be reprising her role as contemporary dance teacher Oksana from HIGH STRUNG. Rounding out the international cast HIGH STRUNG: FREE DANCE also stars Tony nominated Desmond Richardson (Principal- American Ballet Theater, Original Cast- Fosse) and Dimtri Kleioris (FLESH AND BONE, Lead – An American In Paris) alongside Philip Chbeeb (SO YOU THINK YOU CAN DANCE, STEP UP Franchise), Makenzie Dustman (SO YOU THINK YOU CAN DANCE), Jorgen Makena (GLEE, Disney's AUSTIN AND ALLY), Manuel Pacific ( Nickelodeon's RIDE), Kerrynton Jones (Joffrey Ballet School), Nataly Santiago (Pulse Elite Protégé), the principal dancers of Opera National Bucharest and independent hip hop artist Ali Tomineek (One Take Contest Winner).
Source :
World Star Pr