This Diwali Make a Statement in Ritu Kumar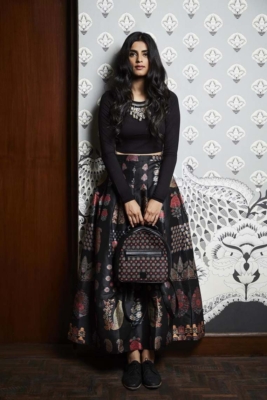 Press Release (ePRNews.com) - AL BARSHA, UAE - Oct 04, 2016 - Diwali is a time for celebrating, partying and, of course, looking your best. And what better way to make a statement than in outfits from Ritu Kumar.
With her latest A/W 2016 Ritu Kumar and Label Ritu Kumar collections, available at the brand's stores in BurJuman Centre and Dubai Festival City Mall in the UAE, you are sure to find a statement piece for the season.
Add a twist to your look and stand out with contemporary yet classic Indo-Chic Occasion Wear from the Ritu Kumar line. The modern, structured pieces come to life with the use of natural fabrics such as crepe, silk chanderi, cotton and velvet in an array of classic colours ranging from grey slate to navy, black and beige. Featuring exquisite hand & machine embroidery, this beautiful collection comprises varied styles for formal day and evening wear including cowl dresses, long kurtas, floor length anarkalis and jackets.
The festive range from LABEL Ritu Kumar is all about Vintage Glamour with a modern spirit. Choose from a mixture of elegant and timeless garments that fuse flirtiness and fun with sophistication. European flair meshed with Indian charm has never looked so good. The collection comprises varied styles for formal eveningwear, ranging from long dresses, vintage skirts, embellished bold crop tops to midis rendered in warm winter shades of ecru, warm pinks and the classic black.
Ritu Kumar store locations in Dubai
• Level 1, BurJuman Centre: Tel: +971 4 352 4768
• Level 1, Dubai Festival City Mall: Tel +971 4 258 8118
About Ritu Kumar
Established in 1969, Ritu Kumar is one of India's foremost designers credited with being the first one to have revived ancient Indian crafts interpreting them into contemporary vocabulary. Her unique understanding and innovative use of traditional designs has led to creation of a new classicism. The designer has dressed the biggest Bollywood stars, the most famous celebrities and the most stylish royals including the late Princess Diana. Ritu Kumar was awarded the Padma Shri Award 2013, the country's fourth highest civilian award for her exceptional and distinguished service in the field of fashion, textile and craftsmanship. Ritu Kumar design house offers three brands: Ri, a premium bridal and couture line, Ritu Kumar, a traditional pret brand offering ethnic semi-formal wear and LABEL Ritu Kumar a contemporary pret line.
For more information visit www.ritukumar.com
For media contact:
Hina Bakht
Vice President
MPJ (Marketing Pro-Junction)
Mob: +971 50 697 5146
Email: h.bakht@mpj-pr.com
http://www.mpj-pr.com
Source :
Marketing Pro Junction

Business Info :
Marketing Projunction
United Arab Emirates