American Tubs Adds MicroBubbles by CG Air to List of Features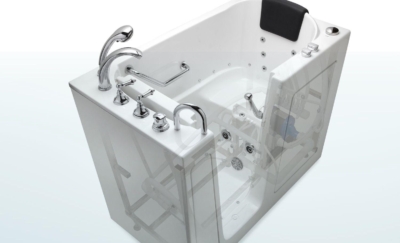 Press Release (ePRNews.com) - CITY OF INDUSTRY, Calif. - Mar 28, 2017 - American Tubs, walk-in tub manufacturer has partnered with CG Air Systèmes Inc., a company that designs, manufactures and distributes components for massage systems for bathtubs, showers and spas, by adding the Pure Bubbles System to their varied list of features, which deep cleanses the skin during bathing without harsh chemicals or soap.
American Tubs is making a splash on the walk-in tub industry by adding new features to their already long list of available trademark options that each customizable tub can come equipped with. While keeping in mind the cost of a tub along with installation fees, American Tubs is constantly seeking out innovative designs and craftsmanship that will increase the health benefits of their walk-in tubs.
All tubs are cost efficient when compared to other tubs along with being eco-friendly and energy efficient. This is why American Tubs has partnered with CG Air, a leader in sustainable living. Their Pure Bubbles System heralds the use of water and air as its' key component in providing healthier skin.
Chemical-free oxygenation of the skin provides the user with cleaner skin, exfoliation, reduction of skin problems such as psoriasis and eczema, making you look years younger. The use of micro-bubbles creates a natural cleansing of any skin pore impurities while removing the fatty acid and bacteria that cause body odor. Perfect for elderly or impaired individuals that need extra assistance while bathing.
MicroBubbles System is a combination of water pressurized with ambient air. A pressure pump propels the mixture of air and water into a special patented fitting that breaks down each air bubble into micro-bubbles creating a dense white cloud within the bath water. A natural solution without harsh soaps and other chemically ridden cleansing products.
American Tubs offers customizable walk-in tubs (http://americantubs.com/walk-in-baths/) with an array of features such as Air Massage, Hydro Massage, Chromatherapy, Aromatherapy, MicroBubbles System, and quick drain – patented 2″ Hurry Drain© system. Made in the U.S.A.
About American Tubs
American Tubs (http://americantubs.com/) designs and manufactures a complete line of premium quality Walk In Bathtubs that are ideal for people with Limited Mobility, Seniors, Disabled and people with pain, arthritis, stress and other debilitating conditions.
Source :
American Tubs

Business Info :
American Tubs
City of Industry, California - 91748 United States
Phone: 626-581-3588
Website:
http://americantubs.com/