Robot Component Pvt. Ltd. Providing OEM-Standard JCB Spare Parts Online
Robot Component Pvt. Ltd is offering on its online sales platform a wide range of JCB spare parts that match the exact standards of original equipment manufacturers (OEMs).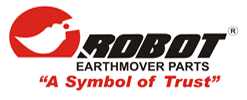 Press Release (ePRNews.com) - Haryana, India - Feb 27, 2019 - Robot Component Pvt. Ltd. or Robot India is a leading manufacturer and supplier of superior-grade earthmover spare parts. The manufacturer has an extensive dealers' network across India that helps it to meet the increasing demand for best-quality JCB aftermarket parts. While Robot India serves a variety of clients in India, it also supplies its products across the world, including destinations like the US, Europe, the Middle East, Asia, and Africa respectively. Robot India is the only earthmovers parts manufacturer in India that has bagged the industry-leading TUV SUD Certification and Accreditation.
One of the executives at Robot India, while making a presentation at an industry meeting, asserted, "We manufacturer a complete range of JCB aftermarket parts, from assy and casting parts to ram, gear and fabrication parts. Our customers can go for products like master cylinders, synchronizer assy, charging pumps, hydraulic pumps, differential housing, planetary hubs, and carrier sets. We manufacture earthmover spare parts in the requisite purity and concentrations to meet the requirement of distinctive industries. We have been serving our clients since the year 1985."
Robot India offers a variety of JCB spare parts, such as tipping levers, buckets, bucket toe plates, sun gear, transfer gear, crown wheel pinions, rods and tubes, pistons, and head end covers. The manufacturer also supplies hydraulic breakers, excavator parts, steering couplings, hydraulic pump assemblies, accelerator lever assemblies, steel bush and more spare parts. Robot India has a strong team of more than 400 skilled professionals who maintain the top standards of its products and procedures. The manufacturer tests every item before delivery.
The executive further added, "In our endeavour to offer genuine, high-quality products at affordable prices, we have started own company sales centres in north and south of India, apart from 150 exclusive dealers covering every corner of the country spanning from the Himalayas to the shores of the Indian Ocean. Our dealership network is ever increasing because of the demands from actual users on the basis of word-of-mouth publicity from nearby areas where a Robot dealership is active. We have been manufacturing OEM-standard, zero-defect JCB spare parts since the year 1985."
For customers who want to contact JCB spare parts dealer or purchase JCB parts online , Robot India displays these products on its online platform from where its customers can get the required quotes. The manufacturer has been offering standard earthmover spare parts and other spare parts for JCB, Hitachi and other popular hydraulic rock breakers. Robot India has two manufacturing units with extremely modern infrastructure and technology. These are equipped with the latest CNC machines, lab and testing facilities and forging, foundry, heat treatment, fabrication, gear cutting and all types of machining facilities.
About Robot Component Pvt. Ltd.:
Robot Component Pvt. Ltd. is a leading Indian manufacturer, supplier and exporter of earthmover spare parts. For customers who need to buy JCB spares parts, the manufacturer offers high-quality products matching the exacting standards of original equipment manufacturers. These spare parts are manufactured efficiently with the highest global precision. From JCB excavators to high-power hydraulic rock breakers, the manufacturer supplies it all to its clients worldwide. Robot India is a prestigious member of EEPC India and the Faridabad Chamber of Commerce & Industry (FCCI).
Contact Information:
Robot Component Pvt. Ltd. (Robot India)
Plot No. 2, Site No. 2,
14/3 Mathura Road,
Faridabad – 121003, Haryana, India
Phone: +91-129-4049990 / +91-129-4092800
Fax: +91-129-2276618
Email: inquiry@robotindia.com
Website: https://robotindia.com/
Source :
https://goo.gl/maps/nQ7XuwXXCxz