Robot Components Offering High Performance, Enduring JCB Parts in Multiple Options
Robot Components, an esteemed manufacturer and supplier of aftermarket parts, is providing high performance, built to last and competitively priced JCB aftermarket parts globally.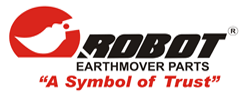 Press Release (ePRNews.com) - Faridabad - Jul 11, 2018 - Robot Components is redefining standards in design, manufacture and supply of aftermarket earthmover parts for JCB, Tata, Hitachi, Caterpillar, L&T and more. The designs come from an in-house R&D department and are in sync with the quality standards and technical specifications of the original brands. The parts are transformed into a functional reality in TUV SUD ISO 9001:2008 certified facilities equipped with advanced CNC machines, forging, foundry, heat treatment, fabrication, gear cutting, and machining equipment. QCs like dimensional, material and fitment checks are done to ensure structural integrity and reliable performance.
One of the executives at Robot Components recently stated, "Robot Components has been delivering near zero-defect spare and aftermarket parts since the year 1985. As a seasoned manufacturer, we have put together a team of over 400 dedicated employees, advanced equipment and streamlined systems, and several industry credentials. The synergy allows us to consistently churn out Spare Parts, Backhoe Loader Parts, CASE 580M/ 580L Parts, Excavator Parts, and Rock Breaker Parts for all leading earthmover brands. Our parts work well, last longer and cost less, which speaks for their consistent demand in domestic and offshore markets."
If Robot Components has set benchmarks in design and manufacture, its supply capability is not inferior either. The manufacturer has a chain of company sales centres, along with 150 exclusive dealers nationwide, each stocking vast inventory to meet parts requirements in their local areas. The growing network allows Robot Components to provide high-performance parts at the best prices and with friendly service and complete installation assistance to earthmover machinery owners in every nook and cranny of India. The manufacturer has integrated its logistics with the leading carriers for fast and economical exports to 30 overseas destinations.
Offering information on the JCB parts on offer, the executive further stated, "JCB rules the roost in the global earthmover sector, providing high performance, sturdy and built to last machines. However, these machines may not perform or last as desired if subjected to poorly manufactured aftermarket parts. At Robot Components, we have a solution to keep them up and running at all times. We bring the widest range of OEM quality aftermarket parts that work harmoniously with JCB machines of all makes and models, enhancing their performance and service life. To top it all, our JCB parts come at a fraction of the price of the original ones."
With Robot Components, one can Get JCB spare parts in several categories, including Assy Parts, Casting Parts, Fabrication Parts, Gear Parts and Ram Parts. Its Fabrication Parts come in options like Tipping Lever, Buckets, Foot, Inner Leg, Outer Leg, and Bucket Toe Plates, while Ram Parts category includes Rods, Tubes, Head End Covers, Pistons, and Hydraulic Cylinders. The buyer can also contact JCB spare parts dealer for Gear Parts like Planetary Gear, Sun Gear, Transfer Gears, and Crown Wheel Pinions, along with Assy Parts like Synchronizer Assy, Master Cylinders, Charging Pumps, Differential Assy and Hydraulic Pumps and more.
About Robot Components:

Since the year 1985, Robot Components has been the best JCB spare parts manufacturer in Faridabad. It is serving world markets with quality aftermarket JCB Spare Parts, Backhoe Loader Parts, CASE 580M / 580L Parts, Excavator Parts and Rock Breaker Parts.
Contact Information:

Robot Components Pvt. Ltd
Plot No 2, Site No 2,14/3, Mathura Road, Faridabad-121003
Tel (India): +91-129-4049990
Fax: +91-129-2276618
Email: sales@robotindia.com, inquiry@robotindia.com
Website: https://robotindia.com/
# # #
Source :
Robot Components Pvt. Ltd