Robot Component Pvt. Ltd. Supplying World-Class, High-Power JCB Rock Breakers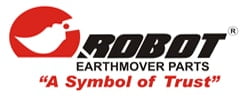 Press Release (ePRNews.com) - Faridabad, India - Nov 25, 2017 - Robot Component Pvt. Ltd is manufacturing and providing a variety of medium-duty, efficient JCB rock breakers and affordable and reliable hydraulic hammers that require low maintenance.
Robot Component Pvt. Ltd. or Robot India manufactures an extensive range of earthmover spare parts. To meet the high standards and precise needs of OEMs (original equipment manufacturers), Robot India offers the best-quality JCB spare parts or after-market parts. The manufacturer supplies accurate and reliable top-grade JCB components and earth moving machinery to its customers in India, as well as across the world. Robot India has more than 400 experienced employees who maintain quality standards, as well as a fair and ethical approach in all areas of operation.
In a personal interview, one of the executives at Robot India informed, "We have been operational since the year 1985, catering to all the market requirements of OEM-quality JCB spare parts. We have two excellent manufacturing facilities where our astute professionals make use of the latest innovative technological implementations in earthmover spare parts industry to deliver best-in-class products. We have constantly been adding to our product range with newer products like our latest hydraulic hammers, R1600 and RB400. We have also been organizing and participating in many industry events and taking our business to new territories."
Robot India arranges educational tours to its factories for those who want to understand the JCB parts manufacturing process. The manufacturer's facilities churn out a wide range of products, including synchronizer assembly, planetary hubs, steel and cut bushes, nuts and bolts, tooth and side cutters, master cylinders, filters, and relief valves. Robot India also manufactures JCB spare parts like crown pinions, charging pumps, fabrication items, bearings, and hydraulic pumps. The manufacturer creates nearly zero-defect spare parts of JCB under its Robot brand.
The executive also said, "We supply parts for JCB, Hitachi and Hydraulic Rock breakers. At Robot India, we manufacture medium-duty and high-power hydraulic breaker RB1600, which is elegant and reliable. The hydraulic breaker is the first in India to be fully indigenously developed at our facilities. We supply JCB rock breakers that are rugged, tough, and built to last longer. These rock breakers work on hybrid technology for instant energy transmission and come with an internal control valve to provide maximum efficiency."
With Robot India, customers do not need to check the JCB 3Dx parts price or JCB rock breaker price, as the manufacturer offers cost-effective products with no chances of failure. The manufacturer has special test benches at its facilities where all these parts are checked in running condition as in an actual JCB machine. The manufacturer also conducts material, dimensional and fitment checks. While manufacturing its rock breakers, Robot India uses high-tech engineering steel that is carefully selected for every part to perform at its best.
About Robot Component Pvt. Ltd:
Robot Component Pvt. Ltd. or Robot India is one of the most trusted JCB spare parts suppliers based in India. The manufacturer has modern factories equipped with the latest laboratory and testing facilities, as well as CNC machines. Robot India also has heat treatment, fabrication, forging, foundry, machining, and gear cutting facilities. With a strong dealer network across the country, Robot India also features as the only earthmovers parts manufacturer in India with the TUV SUD Certification and Accreditation.
Source :
Robot Component Pvt. Ltd.